Welcome to the homepage of Post-Apocalyptic, Thriller, and Science-Fiction author Justin Bell.
One of the most prolific post-apocalyptic authors out there, Justin has written and published nearly sixty novels over the last five years and has no intentions of stopping anytime soon. Working hand in hand with Mike Kraus and Muonic Press, Justin is proud to represent the #1 best-selling post-apocalyptic publisher on Amazon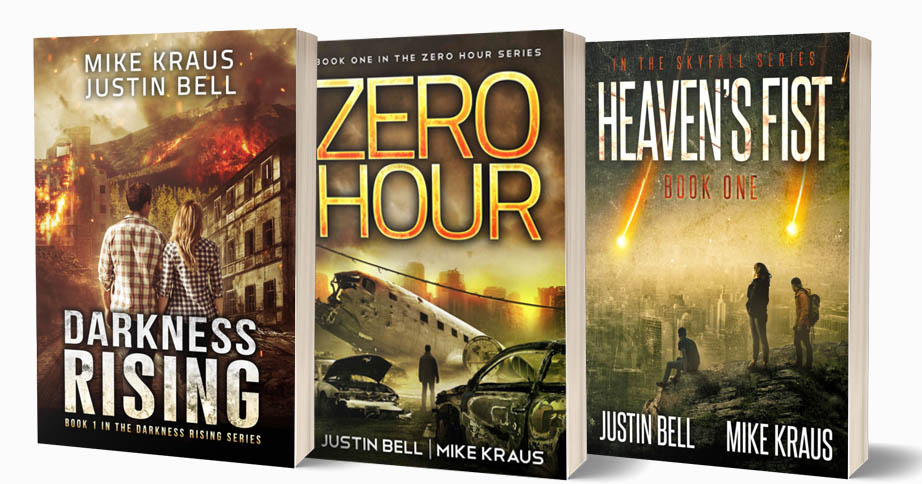 Who doesn't like thinking about the End of the World? I'm often asked why I love writing in this genre, and the answer is simple– it's not about the end of the world, it's about how people and society react to these events and how, even in the most dire of circumstances, hope, family, and faith can rise above all.
With a foot steadily in the canoe of the thriller space, I approach these novels with a focus on grabbing readers by the collar and dragging them into these worlds, ramping up the tension, raising the stakes, and letting the characters take the lead.
Growing up with novels like The Mist, The Stand, Swan Song and not to mention the landmark One Second After series by William R. Forstchen, the post-apocalyptic genre has long since called to me. It seemed like fate that I made a connection with Mike Kraus and Muonic Press in 2017 and have been happily working alongside them ever since. With a focus on character first, it is always my goal to put the reader in the shoes of the protagonists, to make them think, make them consider, and make them understand what it truly means to cling to that last thread of hope when all seems lost.
Preparation, family, and faith all play a strong role throughout all of my work, whether it's in the Post Apocalyptic space or not, I truly hope you enjoy the books.